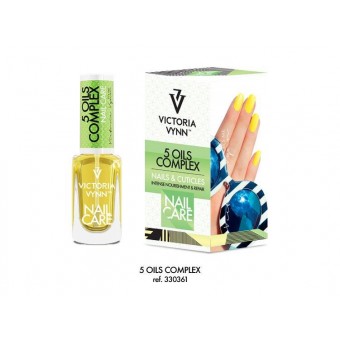 5,37
Prijs in spaarpunten: 100
Prijs in spaarpunten:

100

Model:

salon 5 oils complex 9ml

Levertijd:

1-2 werkdagen

Spaarpunten:

6

Merk:
Omschrijving
Nagel(riem)olie
96% natuurlijke olie
verzorgt de nagelriemen
versterkt de nagelplaat
voor de natuurlijke nagelplaat en als afwerking van de manicure
geschikt om in te masseren
voor handen en voeten
druppelaar
wordt goed geabsorbeerd, laat geen vettige laag achter
Een hoge concentratie van 5 natuurlijke oliën, verrijkt met vitamines, antioxidanten en vetzuren. Verzacht en verzorgt de nagelriemen, herstelt de vochtbalans in de nagelplaat, verbetert de sterkte van de nagelplaat en verbetert de flexibiliteit. Dankzij de olie herstellen de nagelriemen zich en wordt de nagelplaat weer glad, sterk en glanzend.
5 OILS COMPLEX: met macadamia- , argan- , amandel- , avocado- and jojoba-olie.
Macadamia Olie – vochtinbrengend, verzorgende en anti-verouderingseigenschappen. Vertraagt de veroudering van cellen, geeft elasticiteit aan de huid.
Argan Olie – bekend als het "elixir van de jeugd", bevat vetzuren, die essentieel zijn voor het herstel van de huid. Het verbetert de elasticiteit van de huid en versnelt genezing van wondjes. Hydrateert en verstevigt de huid.
Amandelolie – verzacht en verstevigt de huid. Beschermt tegen factoren van buitenaf, bevat een groot aantal voedingsstoffen: mineraalzout, vitamine A, B, D en E en linolzuren.
Avocado Olie – 7 vitaminen-olie: vitamine A-B-D-E-H-K en PP, sterk vochtinbrengend, verzorgt en verzacht de huid. Maakt de huid stevierg en verstrekt de nagelplaat.
Jojoba Olie – wordt makkelijk geabsorbeerd door de huid. Verzorgend en hydraterend. Verzorgt en verzacht, bevordert de huidvernieuwing. Verzacht de huid en is een natuurlijke zonnebrandolie.
Gebruiksaanwijzing: Gebruik de druppelaar om 1 druppel olie op iedere nagelriem aan te brengen. Masseer de olie in de nagelriemen en de nagelplaat. Verdeel een teveel aan olie over beide handen. Kan gebruikt worden om de natuurlijke nagel te herstellen of als afwerking van de manicure, verzorgt de nagelriemen. De olie wordt goed geabsorbeerd en laat geen vettige laag achter. .
Inhoud: 9 ml
Ingrediënten:
PRUNUS AMYGDALUS DULCIS OIL (PRUNUS AMYGDALUS DULCIS (SWEET ALMOUND) OIL), PERSEA GRATISSIMA OIL (PERESEA GRATISSIMA (AVOCADO)OIL , SIMMONDSIA CHINENSIS SEED OIL (SIMMONDSIA CHINENSIS (JOJOBA) SEED OIL), PARFUM (FRAGRANCE ), BUTYL ACETATE, MACADAMIA INTEGRIFOLIA SEED OIL, ARGANIA SPINOSA KERNEL OIL, TOCOPHERYL ACETATE, CAPRYLIC/CAPRIC TRIGLYCERIDE, PISTACIA LENTISCUS GUM (PISTACIA LENTISCUS (MASTIC)GUM), ASCORBYL PALMITATE, CI 47000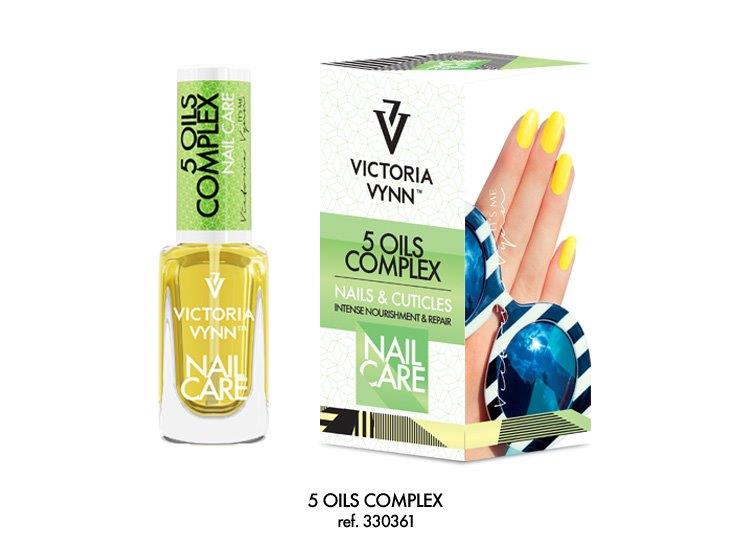 Beoordelingen (0)
Beoordeel
Note: HTML-code wordt niet vertaald!

Verder