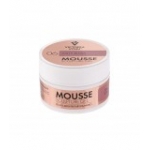 ICTORIA VYNN'S REVOLUTIONAIRE MOUSSE GEL - 50 ml
Transparante sculpture gel, bedoeld voor het bouwen van de verlenging,
Een 3-fase thixotropic gel met een romige consistentie, bedoeld voor:
- Verlengen en opbouwen van de nagel, met navijlen
- Verlengen en opbouwen van de nagel met de 1 bal techniek, zonder navijlen
- Constructie van special shapes
- Verstevigen van de natuurlijke nagel
- Snelle bijwerking, reconstrueer 4 nagels tegelijk
- Geschikt om te pinchen
Wat is Tixhotrophy?
De dikke romige consistentie van de Mousse Sculpture Gel heeft de eigenschap om zich aan te passen indien nodig. Als je het aanbrengt op de nagel, wordt de consistentie iets dunner. Dit proces heet Thixotrophy, oftewel ' vloeibaar geheugen'. Het gevolg hiervan is dat deze gel heel makkelijk en mooi glad aan te brengen is. Zodra je penseel in aanraking komt met de gel, wordt de consistentie wat vloeibaarder waardoor je de gel makkelijk kunt sturen. Ook levelt de gel hierdoor heel mooi, zonder in de nagelriem of zijwallen te lopen.
Na uitharden in de lamp, wordt de gel hard en sterk.
- Loopt niet in de nagelriemen
- Geen lifting
- Geen vergeling
De innovatieve formule van de Mousse Sculpture Gel met 'geheugen' is ontwikkeld om snel en comfortabel te werken, Geschikt voor zowel beginners als gevorderden.
LET OP:
Aanbevolen wordt om de beschermende folie 24 uur vooraf te verwijderen om de optimale consistentie te verkrijgen.
De gel niet roeren in de pot.
De kleur kan iets afwijken na het vijlen
Uitharden in UV/LED 48W 30-60 seconden, of in UV 36W 120-180 seconden.
Stap voor stap gebruiksaanwijzing Mousse Sculpture Gel:
Bereid de natuurlijke nagel voor. Nagelriemen naar achteren duwen, velletjes verwijderen, licht buffen en ontvetten met de Dehydrator van Victoria Vynn.
Breng een laagje Tape Bond aan voor een optimale hechting en laat dit 30 seconden drogen. (Gebruik bij probleemnagels de Acid Primer)
Breng een dun laagje Build Base aan en poets dit goed in. Als alternatief kun je evt. de MegaBase of Boost Base gebruiken. Laat de base 60 seconden uitharden in de 48W UV/LED lamp.
Knip het sjabloon op maat en sluit het goed aan op de natuurlijke nagel.
Breng een dun laagje Mousse Sculpture Gel aan op het sjabloon om zo alvast de verlenging te creëren. Laat dit laagje 30 seconden uitharden en verwijder het sjabloon voorzichtig.
Breng een 2e laagje Mousse Sculpture Gel aan en vorm hiermee de nagel en bouw de apex. Laat deze laag 60 seconden uitharden.
Verwijder de plaklaag met de Victoria Vynn Cleaner of de DuoPrep en vijl de nagel in vorm en corrigeer waar nodig. Buf de laatste laag voor een mooie gladde afwerking. Verwijder het vijlstof en ontvet met de Dehydrator.
Werk af met een kleur gellak (indien gewenst) en een topcoat. Iedere laag uitharden in de 48W UV/LED lamp.