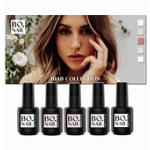 BO. BIAB is een "Builder In A Bottle". Een totaaloplossing met de basis, builder en top gel in één. Dit is een ideaal product voor een snelle en gemakkelijke toepassing op natuurlijke nagels, dat ook kan worden gebruikt voor het bouwen van nagelverlengingen met tips of sjablonen. De BO. BIAB Collection biedt u het volledige gamma van BIAB kleuren.
Verkrijgbaar in: 5 verschillende kleuren in 15 ml en in de BO. BIAB Collection Kit.
Kenmerken & voordelen
Kracht van een builder gel
Gemakkelijke toepassing
Geschikt voor gebruik op natuurlijke nagels, tips en sjablonen
Perfecte basis voor gel polish applicatie. Kan gebruikt worden als base coat
Plaklaag
3-in-1 – Base, builder en top in één product
Beschikbaar in 5 kleuren
Gebruik
Stap 1 – Bereid de nagel eerst voor zoals gebruikelijk.
Stap 2 – Breng een dun laagje BO. Air Dry Bonder aan.
Stap 3 – Begin met een dunne basislaag en hard 30-60 seconden uit in de BO. Soft Curing LED/UV Light 48W.
Stap 4 – Bouw de nagel op tot de gewenste vorm en of lengte en hardt opnieuw 30-60 seconden uit in de BO. Soft Curing LED/UV Licht 48W.
Stap 5 – Verwijder de plaklaag met de BO. Gel Cleanser op een celstofdepper of gelsponsje.
Stap 6 – Vijl de nagel met een BO. Hygiëne Vijl 180/180 grit.
Stap 7 – Verwijder het stof met een manicure borstel.
Stap 8 – Eindig met een laatste laag BO. BIAB, hardt deze uit en reinig deze voor de extra glans. U kunt ook de nagel afwerken met de BO. Soakable No Wipe Top Gel of een BO. Soakable Gel Polish kleur naar uw keuze.