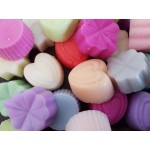 Wat zijn smellies
Een hele nieuwe geursensatie voor in huis: Smellies!
Smellies zijn heerlijk geurende kaarsjes die je laat smelten in een oliebrander. Zodra de Smellie smelt krijg je direct een heerlijke geur in huis!
Onze Smellies zijn handgemaakt van 100% ecologische sojawas. Onze sojawas is zeer milieuvriendelijk en niet getest op dieren. Maar er zijn nog meer voordelen aan Smellies
Het is 100% natuurlijk, dus geen chemische middelen zoals paraffinewas

Smellies zijn makkelijk in gebruik. Als je tevreden bent over de geur in huis blaas je het waxinelichtje uit en heb je nog uren plezier van de geur. Als de geur weg is laat je de Smellie weer smelten voor nog meer geur

Smellies smelten snel en spetteren niet. Het is een veilig alternatief voor geurolie, geurkaars of wierook

Er is voldoende keuze in geuren, dus voor ieder wat wils. En er komen regelmatig weer nieuwe geuren bij

Smellies zijn leuk voor jezelf of iemand te verrassen
Wat heb je nodig:
1 oliebrander

1 waxinelichtje

Smellies!
Doe een Smellie in de brander en steek het waxinelichtje aan. De Smellie zal langzaam smelten en geeft direct een heerlijke geur in huis! Als je tevreden bent met de geur blaas je het even uit en zal de Smellie weer hard worden.
Zo kun je zelf bepalen hoeveel geur je in huis wilt.

De Smellies geuren ongeveer 8-12 uren. Het kan per geur verschillen. Als de geur helemaal weg is kun je de smellie verwijderen. Het beste is om de Smellie eerst hard te laten worden en dan een paar minuten aanzetten. Dan kun je met een mesje de Smellie makkelijk verwijderen.
Sorteren op:
Aantal weergegeven: